37 storm-resistant houses handed over to coastal communities
Publish date 24/06/2018 | 08:46 | Lượt xem: 778
The Vietnam Disaster Management Authority (VNDMA), Ministry of Agriculture and Rural Development and the United Nations Development Program (UNDP) yesterday handed over and inaugurated storm-resistant houses to the vulnerable communities in Quang Ngai province.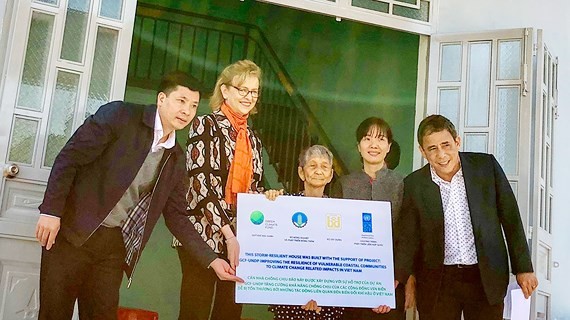 A resident is happy to receive the new house (Photo: Courtesy of UN)
Recently, 37 houses have been built for poor households in five communes of three districts of Quang Ngai. More than 300 houses are estimated to be built in 2018.
In recent years, increasing extreme weather events in Vietnam have been occurring unpredictably. Only in 2017, Vietnam suffered more than 16 typhoons, including 5 typhoons directly hit the coastal provinces.
Many floods, flash floods, landslides caused more than 386 dead and missing people. Hundreds of thousands of houses were destroyed and dozens of villages were isolated by floods.
Resilient-housing is one of the most effective measures to mitigate the loss of property and people in the coastal provinces. Therefore, the Prime Minister of Vietnam promulgated Decree 48 on policies to support poor households to build houses to prevent floods and storms in the central region.
Based on the decree, the project "Improving the Resilience of Vulnerable Coastal Communities to Climate Change Related Impacts in Vietnam" The Ministry of Agriculture and Rural Development (MARD) and the Ministry of Construction (MoC) have supported the construction of 4,000 safe houses in five coastal provinces in the country such as Quang Ngai, Quang Nam, Quang Binh, Thua Thien Hue and Thanh Hoa.
This housing support will benefit both the "near poor" and "poor" households according to government criteria, and priority is given to ethnic minority households and disadvantaged families, elderly, families of people with disabilities, and such households in extremely difficult areas, in the poorest districts of the Government's poverty reduction program and other vulnerable people.
Ms Doan Thi Tuyet Nga, Director of the Department of International Cooperation, VNDMA, said: "This is a great effort of the United Nations Development Program and VNDMA in order to support vulnerable coastal communities to strengthen their resilience to the natural disasters and climate change. The project's activities right before the New Year of Mau Tuat 2018 contribute to helping people have a happy new year and ensure their safety."
Attending the inauguration event were representatives of Quang Ngai Province People's Committee, Vietnam Disaster Management Authority, Ministry of Agriculture and Rural Development, United Nations Development Program, representatives from the Department of Agriculture and Rural Development, Department of Construction, Commune People's Committee, Women's Union and households participating in the project.
This is the first project in Vietnam having the support from the Green Climate Fund. Its objective is to increase the resilience of vulnerable coastal communities to the impacts of climate change in Vietnam, through safe housing for coastal communities vulnerable to floods and storms; dramatically increase the coverage of mangroves providing natural buffer between the sea and coastal communities; provides reliable climate risk information to help guide participatory disaster risk management planning and climate change response. The project will be implemented in five years (2017-2022) with the fund of US$ 29.5 million.